the major player in the image professions
PRINT - PRESS - DIGITAL - VIDEO
The RCI / DIGITALLI alliance offers a global 360 ° response on the media for your activations of multi-channel advertising campaigns.
Professional in image creation, post-production, technical and technological installations, she supports prestigious brands on an international scope (85 countries delivered) for the point of sale, duty-free, outdoor advertising, magazine press, digital and video. Its model is based on the combination of strong business skills with powerful technological tools developed in-house. Its objectives are to support brands with know-how and optimal control of compliance with creations and marketing expectations.
RCI / DIGITALLI is also a highly qualified technical service provider and pioneer in the supply and installation of audiovisual systems, specializing in new technologies for dynamic and interactive display. Its internal tools allow global deployment with remote management of content programming and hardware maintenance. RCI / DIGITALLI has its headquarters in France but has also established itself in Asia for more proximity and responsiveness to its customers.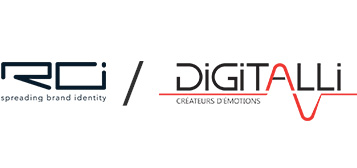 Contacts :
Mike MOSSERI | General Director RCI/DIGITALLI
mike@rciparis.com | +33 (0) 1 75 60 79 60
Marine LE GALL | General and Artistic Director RCI/DIGITALLI
marine@digitalli.fr | +33 (0)1 75 64 23 02
Bertrand DEGIEN | General and Technical Director RCI/DIGITALLI
bertrand@digitalli.fr +33 (0)1 75 64 23 03